Download the catalogue here
Standard size Option
Standard sizes are our more budget friendly price option that works on your normal retail sizes. YOU choose the standard size you feel will work best for your body according to our measure chart.

When ordering on the standard size price option this will EXCLUDE any fittings, alterations or tailoring. The dress is sold AS IS.

Please note that if the incorrect size is ordered we do not offer refunds, as the dresses are all custom made on order. Once an order has been placed for that specific style, size, skirt cut, and colour.
The chances of reselling the dress again to someone with the exact same specifications might be rare.

ORDERING THE CORRECT SIZE IS KEY WITH THIS OPTION.

If you would like tailoring and alterations done on your standard option dress, we can then provide you with a quote for the specific alteration, however the "Made-to-measure Price Option" might have been a more affordable option for you.

How to choose your Size:

1. Take your measurements by using our "How to Measure video tutorial", in the video below.
2. Have a look at the measurements and see which size on our measure chart is closest to yours.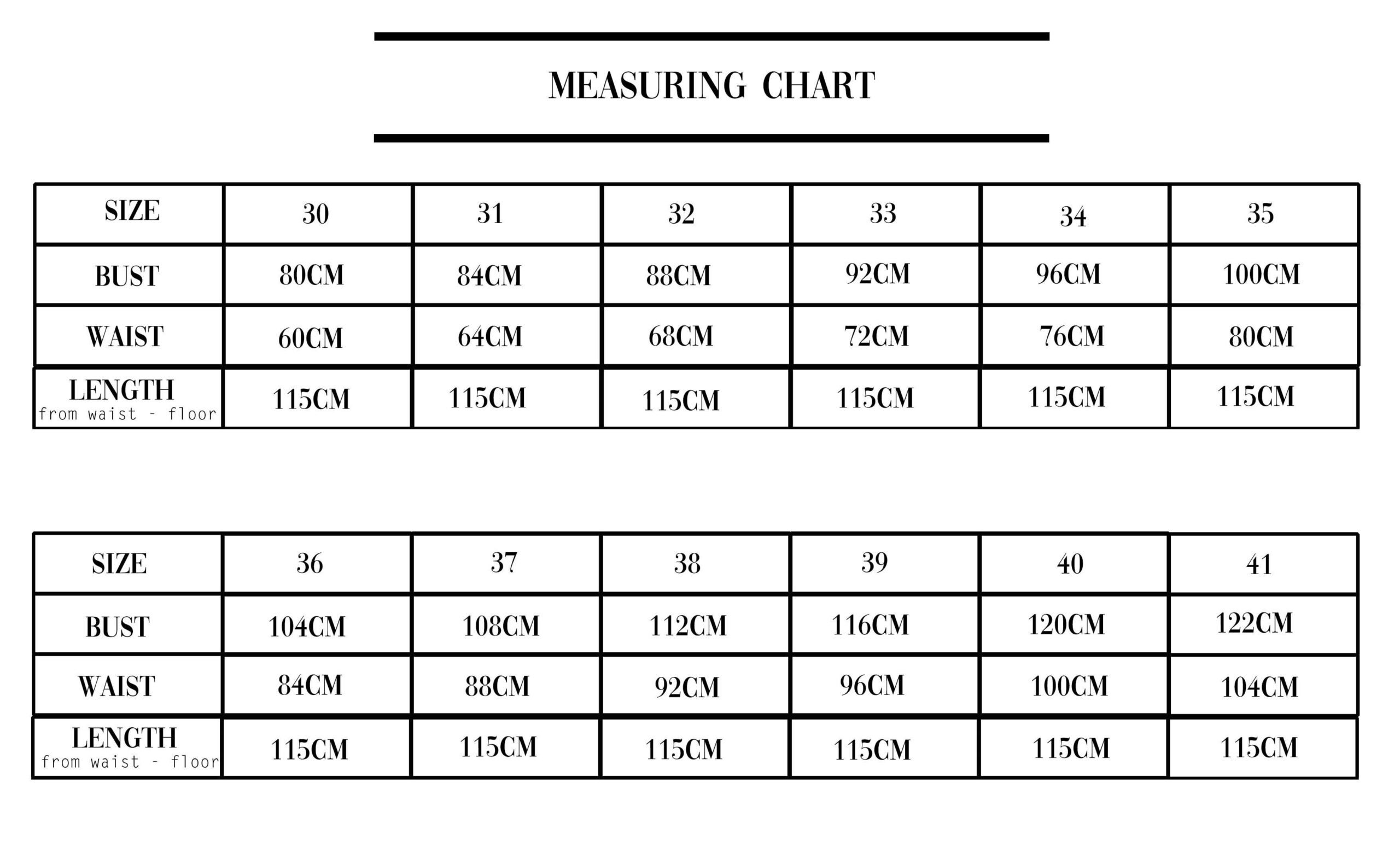 3. Our average length from waist to floor is 115cm, however if you'd like to make it 120cm please also indicate this on the order form - an additional fee might be applicable.
Made-to-measure Option
When ordering a dress on this price option the dress will be made according to your exact measurements given. Or Make a measurement appointment with one of our showrooms

This price option will also include fittings (if you're able to attend one of our showrooms in PE or Cape Town) and Alterations/tailoring. This means that once the dress has been sewn up, one of our designers will assist in pinning and altering the dress to your unique body shape to ensure a perfect tailored fit.
Working according to measurements will help to achieve a perfect fit, but tailoring helps to emphasise or hide areas of your unique body that measurements alone could not indicate to us.

If you are not able to attend the showrooms but still want the Made-to-Measure option we can assist with a step-by-step guide on how to pin the dress to indicate the alterations needed. Courier costs are however NOT included.

How to take your measurements:

1. Click on this tab to follow the link to our Video tutorial on how to take your measurements or contact us to have your measurements taken at one of our showrooms.
2. Be sure to schedule a Fitting date with us for tailoring and pinning of your dress.
Copyright © hoiden (Pty) Ltd. 2021